Cookware
Cookware metallurgy
Steel
Stainless steel is the classic material for camping cookware. It is resistant to scratching, abrasion and does not rust. It is strong and lasts a long time, but tends to be heavy.
Aluminium
The choice of the lightweight camper, aluminium cookware is much lighter than steel and is generally cheaper too. Aluminium has a low fatigue life, however, and is very susceptible to knocks and dents, meaning that it is typically only used for one camping season before being replaced.
Titanium
Titanium is lighter than steel, stronger than aluminium and is quick to heat. It also retains that heat very effectively making it ideal for cooking for large groups of campers. It is resistant to scratching and abrasion and does not easily dent. For all of these reasons it tends to be the most expensive option.

China vs. Melamine Plates
Melamine plates are reasonably durable and light weight. They are easy to pack, wash and store. China plates can last longer if properly looked after, but are heavier and more delicate to look after, making them more suitable for caravanning and picnicking than multi-day camping.
What to take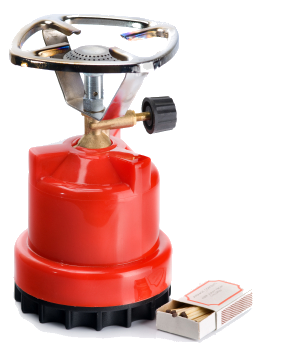 Matches or a lighter (and spares, in case they get wet!)
A stove
Fuel for stove
One pot per two campers
One pan per two campers
One cup, plate, bowl per person
Cutlery (and spares)
Tin opener
Corkscrew
Scissors
A knife
Stirring / serving spoon
Skewers or prongs
Rubbish bags
Note that multi-tools are available with one or more of these functions built in and can help to save bulk and weight. Combined cutlery such as the 'spork' which functions as both a spoon and a fork can also aid the quest for minimalism.