Get hiking
Since the 18th Century, hiking has been a widely undertaken pastime. From Wordsworth to Coleridge to Keats, Britain has a rich history of walking through the countryside for pleasure. Mass trespasses by ramblers in the Peak district in 1932 lead to the passing of Mountain Access Bill, which eventually guaranteed the British people's 'right to roam' the countryside.
The Get hiking section of this site discusses one of the most popular and accessible activities in the UK. With thousands of square miles of beautiful countryside throughout the country and minimal barriers to access, hiking is a healthy way to spend time outdoors that can be as relaxing or as challenging as you make it.

Getting Started
Hiking/walking/rambling in the UK is so popular and accessible that wherever you are, you can feel assured that a good rambling route is never far away. Visit these links to find out more about hiking in the UK:

The National Trails - You'll find everything you need to plan your visit to the best Trails in England and Wales, whether you're looking for a family day out, a short walk, ride, a really good ice cream or a life-changing long distance walk experience.
Ramblers - Britain's walking charity. Find routes, seek expert advice, campaign for walkers rights and more.

The National Trust - Walking - Find a walking route or event.
Benefits
Walking is associated with numerous health benefits; both physical and mental. Walking is not only proven to benefit the cardiovascular system, but is associated with enhanced creativity, clarity of thought and providing a sense of inner calm, being at one with one's environment.
Hill walking boots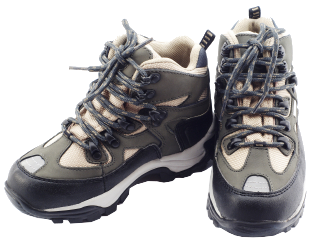 Hill walking boots are suitable for trail walking, British hill walking, fell walking, and wet and muddy conditions.
They are generally made from either leather or fabric, each having its own distinct characteristics. Some people have two pairs of boots; one for the summer and one for winter.
Leather boots are traditional looking, tough and waterproof, but also breathable. Leather walking boots used to be very heavy, but have slimmed down substantially in recent years. In hot weather they can become rather hot and sweaty. They excel on unstable ground and in wet conditions.
Fabric boots tend to be better ventilated, but generally do not have as good waterproofing qualities and are not so abrasion resistant. They are usually lighter weight and can be more comfortable than leather boots. Many people also prefer the look of fabric boots. They excel for lowland hikes and general use.
The soles of both types of boots tend to be very hard-wearing and grippy. These are usually made from rubber with high carbon content. The current market leader is Vibram, whose compound has a good mix of stability, traction, flexibility as well as a high level of abrasion resistance. Deeper treads are suitable for unstable ground and providing extra stability for optimum balance, whereas shallower treads can be more comfortable and faster to walk in.
Walking poles
Walking poles, also known as hiking or trekking poles, are a common rambler's accessory useful for aiding the rhythm of the walk. Their function is to provide stability to the walker whilst covering rough or rocky terrain. Walking poles are generally made from lightweight aluminium or carbon fibre and are often formed of two or three sections making them adjustable and packable. One-piece poles are also available and are prized for their strength and light weight.
Find your local shop

For more information on walking boot choice, as well as information on sizing and fit (the most important thing!) please use our find a shop page and locate your nearest specialist.