Get running
Our ancestors developed the ability to run for long distances about four and a half million years ago in order to hunt animals for food. We run today to challenge ourselves, to keep fit, to make the last train home, or as part of other sporting activities.
The Get running section on The Outdoor Experts is designed as a comprehensive introduction to anybody interested in the sport of running. With information about shoe choice, types of running and health advantages and risks.

Getting Started:
Running is known for its accessibility; all you really need to get started is a pair of running shoes! However, running is also a very high impact sport in which it is deceptively easy to injure yourself with incorrect technique. See the links below for info and tips on how to enjoy running.

Types of running events
Track running events are held on an oval running track and include both individual and relay events over specified distances.
Road running events take place on established road routes and most often range between distances of 5km right up to marathon distances (42km+).
Cross country running events, including fell running and trail running, involve running over rough terrain that may include woodland, grass, mud and even water.
Base layers
The goal of a base layer is to wick away moisture from the skin, keeping you cool, dry and comfortable in all weather conditions.
As you run, the body naturally produces sweat in order to regulate body temperature. Where a natural fabric such as cotton will absorb moisture, becoming wet, heavy and cold, a base layer made from a technical synthetic fabric that sits directly against the skin will draw this moisture away and pass it onto the next layer, allowing it to be efficiently evaporated.
Base layers manufactured from merino wool are also popular. Merino wool comes from merino sheep in New Zealand and is a bit of a wonder-fabric. Not only is merino smooth and non-abrasive, making it suitable for people with sensitive skin, but it can absorb up to 30% of its own weight in moisture before this reaches the skin of the wearer whilst remaining breathable. It is also naturally anti-bacterial and a very good insulator, making it suitable for a wide variety of conditions.
Running shorts

There are three main types of running shorts; Base layer shorts, racing shorts and long length running shorts.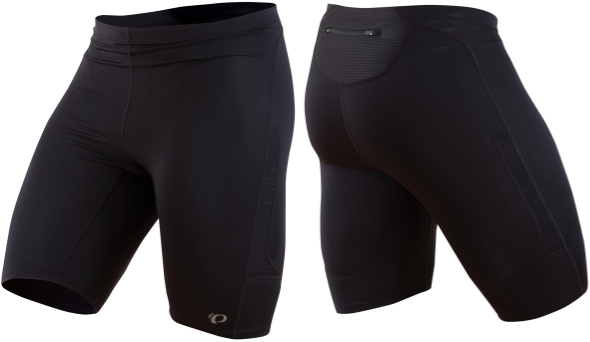 Base layer shorts can be worn on their own for speed running, or as part of a layering system underneath another pair. Base layer shorts should sit close to the skin and are designed to perform the same duties as the base layer worn on your torso; that is, to wick moisture away from the skin, and allow it to evaporate. Look for flat-locked seams which will reduce rubbing and chaffing.
Racing shorts are ideal for general running; these are your traditional running shorts, usually featuring a high cut and arched sides. These are manufactured from technical fabrics to aid wicking and often have an inner liner made from microfiber to allow them to move like a second skin.
Long length running shorts are worn by themselves or over the top of base layer shorts. They are a longer cut and as such provide better protection against wind and abrasion, making them very popular for trail running. They also usually contain pockets which can be used to store keys, gels, gloves, headbands etc.
Running Tights
Also known as leggings or long johns, these are useful to stay warm and dry in colder temperatures. Made from synthetic, stretchy blends of nylon, polyester and elastane/spandex/lycra, they sit close to the skin wicking away moisture and allowing heat to circulate.
Look for tights with four way stretch and flat locked seams for comfort and security, UPF protection to protect from harmful UV light and a compression fabric to boost performance and aid in recovery.
For more information, and to try things on for fit and feel, use our find a shop search to locate your local specialist running shop.
Running shoes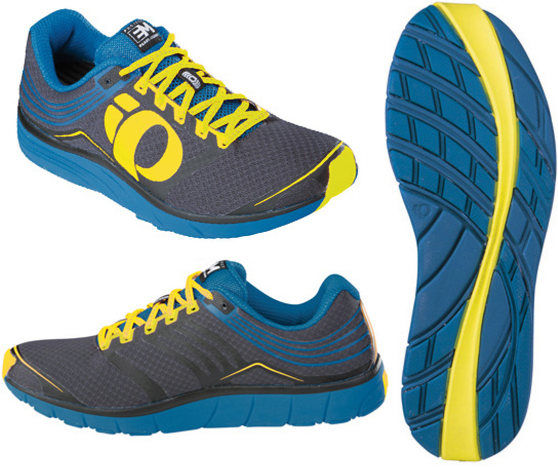 Running shoes are a deeply personal affair, and it is important to get the right ones to reduce risk of injury.
Traditionally, the objective has been to absorb shock from the road or trail to protect your delicate joints, back and neck, whilst correcting any imperfections you have with your running gait; that is, the action of taking a step broken down into phases.
The term 'pronation' refers to the rolling of the foot outwards during movement. A small amount of pronation is ideal, however, both under and over pronation is common and both are common causes of injuries and strains.
'Barefoot' running has recently experienced a surge in popularity after the publication of Christopher McDougall's book "Born to Run", which focuses on the culture of the Native American Rarámuri people who are renowned for their long distance running ability, wearing little more than crude sandals.
Find your local shop

To have your gait assessed and to discuss which pair of running shoes might be right for you, visit our
find a shop
page to locate your nearest running specialist.