What to wear
As the name would suggest, snowsports are generally performed in the winter months when there are likely to be freezing conditions.
Staying warm and dry can be the difference between an enjoyable day and a miserable one. There are a few simple clothing choices you can make before you hit the slopes that will ensure a long, enjoyable day on the slopes follows.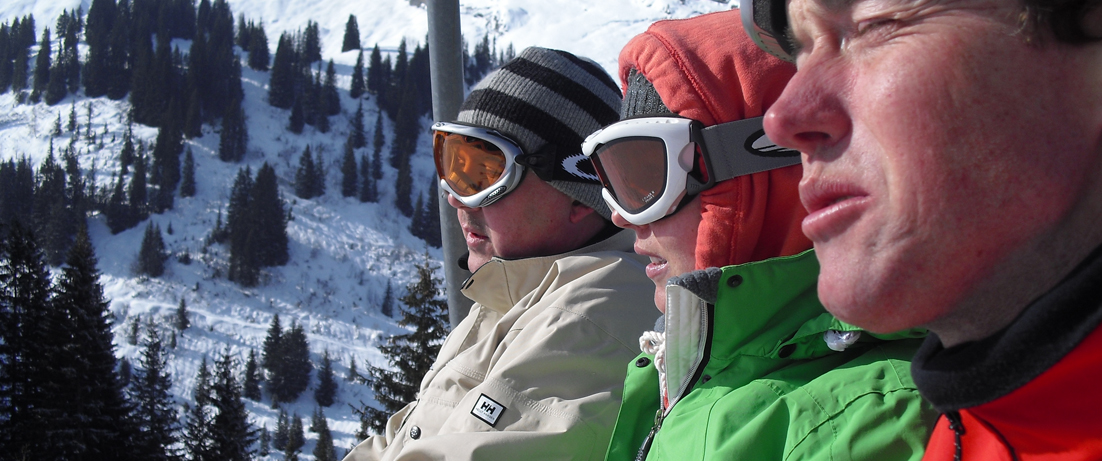 Clothing
Avoid cotton clothing such as jeans or sweatshirts next to your skin as these will absorb sweat and snow, making you cold.
The best way to dress on the slopes is in 3 layers. Layers allow you to adapt to sudden changes in temperatures by offering the flexibility to remove layers.
Layer 1.'Wicking' Layer
This is the layer worn next to your skin, usually underwear which traps warmth against your body while "wicking" moisture away from your skin. Thermal underwear made of synthetic fibre (normally polyester) which has "wicking" power will be your best option.
Layer 2. Insulating Layer
This is the middle layer which consists of sweatshirts, vests and pullovers, designed to keep heat in and cold out by trapping air between the fibres. Fleece is one of the most popular materials for this layer as it maintains its insulating ability even when wet, and dries quickly.
Layer 3. Protection Layer
The outer layer, generally trousers and a jacket, serves as your guard against the elements of winter. It should repel water from snow, sleet or rain and block the wind, while also letting perspiration evaporate.
Snowboard clothing is still designed to fit looser than alpine skiwear, giving snowboarders freedom of movement. Many snowboard trousers are also reinforced in the seat and knees for extra protection when kneeling or sitting on the snow.
Headgear
You lose the most amount of heat through your head so headgear is a very important part of your snowsport outfit. However, when considering the best headwear for you it is not only warmth that is an issue, but safety too.
Wearing a helmet not only keeps your head warm, but it also protects your head from injury and can prevent death in serious cases. This cannot be said for just wearing a hat, which is why more and more people are choosing to wear helmets on the slopes.
Helmets have always caused debate, and if you still aren't sold on the idea of wearing one, there are loads of reports online surrounding the advantages they offer, such as this one here from skiinjury.com
Before buying a helmet you should read these tips, and use our find a shop tool to find a specialist retailer near you.
Determining what size helmet you need is relatively easy as most are sized in centimetres, so all you need is a tape measure.
To get the right measurement you should measure the circumference of your head just above your eyebrows.
Go to your local snowsports shop and try on different brands of helmets in your size. Helmets, although the same size, may fit differently so it's always best to get a feel for the right one. If your going to be wearing a helmet liner and goggles make sure you take these with you and wear when trying helmets on.
To put the helmet on correctly, align the front rim of the helmet above your eyebrows. Hold the straps on both sides and roll the helmet over the back of your head.
The helmet should feel snug and comfortable, there should be no gaps on either side of your head and your goggles should sit nicely and not be affected by the helmet.
Like buying any other item you will be wearing, it is important to try it on before you buy, but if you must buy one online then be sure to check their returns policy first.
Eyewear
A combination of the cold, snow, wind and ultraviolet light can cause snow blindnes, which although only a temporary problem, can be painful and ruin your time on the slopes.

To avoid this, on sunny days sunglasses can be really useful on the slopes, but on the colder, snowy days it is recommended that you invest in a pair of goggles as this will help with your visability.
As well as reducing the effect of the ultra violet rays, eyewear should have good ventilation to prevent them from steaming up and strong lenses that can withstand a knock if you happen to fall over.
As with all other products in this list, you should be sure to try on your eyewear first for comfort and fit. If you will be wearing glasses underneath your goggles make sure you take these along with you to try on goggles. There are some new innovations in the goggles market for those of you who wear prescription glasses, such as over the glasses (OTG) goggles, which allow plenty of space for you to wear glasses comfortably. If you'd prefer to not wear your glasses you can always invest in a pair of prescription goggles or sunglasses.

Hands
It is essential to wear gloves when out on the slopes. In such cold temperatures you need to keep as much of your body covered as possible, especially if you are falling in the snow and using your hands to push yourself back up.
Whilst mittens are warmer, you might struggle to adjust your equipment or clothing. Gloves will allow you much more freedom of movement. If you suffer from particularly poor circulation you might want to have a look into the three fingered gloves, which offer you the extra warmth of mittens but allow for extra movement as both the index finger and thumb are separate from the other fingers.
Feet
There is no need to follow the layers rule on your feet, snowboard and ski boots are designed to be warm so extra pairs of socks may only hinder your performance by giving you blisters.

Socks
When selecting socks, you should consider the same pricniples as clothing, do not wear cotton, this will absorb moisture and make your feet uncomforatble and cold. Opt instead for specialist snowsports socks, these will tend to be midweight meaning they are thick enough to keep you warm without having to layer up but thin enough to not affect the fitting of your boots.
Boot Fitting

When getting fitted for your boots you should remember these key things.
The boots should be firmly fitted, not too tight that it is uncomfortable, but light a firm handshake around your foot and ankle.
Your toes should just about touch the front of the boot
Walk around the shop for a good ten minutes to test their comfort
Bear in mind that after a few days of wear the boots will give a little, so it is better to buy boots that are on the tighter side rather than loose.

Take the socks you will be wearing along with you when you try the boots on to get a better idea of the fit
Give the retailer as much information as you can, such as bindings you need the boots to be compatible with, what ability you ski or board at, if you have particluarly bad circulation in your feet etc. They will be able to offer you help and advic.
Remember, this is just basic advice, if you have any other tips you'd like to share please
get in touch
with us!