Back to news menu
Safer roads and building confidence could see 'seismic shift' in the number of women cycling
Posted on in Business News, Cycles News, Outdoor News
Cycling UK's Women's Festival of Cycling looks to raise the profile of women's cycling and provide an inspiring and insightful opportunity specifically for females to take part in cycling activities.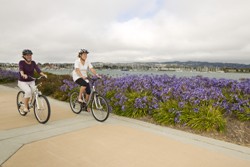 To coincide with the launch of the festival Cycling UK have released the results of a study which looks at what is preventing more women from cycling.
According to the research, women who do not cycle on a daily basis are most likely to cite feeling nervous about cycling on the roads because they think it's dangerous as being a barrier to them cycling more often (44% compared with 26% of men).
The poll, commissioned by the nation's cycling charity, and conducted by ComRes, also found that 30% of women who don't cycle daily say they don't cycle more often as they don't feel confident enough to ride a bike - contrasted by just 11% of men feeling the same.
The research, released to coincide with Cycling UK's 100 Women In Cycling celebration, hosted in Birmingham today (10 July), suggests that better space for cycling and offering more opportunities for women to learn how to cycle with confidence, would have a big impact on cycling participation.
Julie Rand, Women's Festival of Cycling Coordinator at Cycling UK, said "We could - and should - see a seismic shift in the number of women cycling in the UK, but for this to happen, we need to create a safer environment for people to cycle in, as well as make cycle training more accessible. If we can help people overcome a misplaced sense of risk around cycling, then we know more women young and old alike, would choose to cycle more often."
The study also found that:
20% of women say they have never ridden in a cycle group but would consider doing so.
Women are most likely to say that they have been on cycle rides for fun (e.g. with friends/family), with 54% saying they have done this.
When those who do not cycle on a daily basis are asked what would encourage them to cycle more often, the most readily cited reasons among women are more cycle lanes on the roads near them (30% for both men and women); owning a bike or a better quality bike (23% vs 28% men); having a 'cycling buddy' or group to cycle with (18% vs 16% men); and cycle proficiency training to improve confidence when cycling (10% vs 4% men).
Two in five women (41%) say that none of the suggestions tested would encourage them to cycle more and that they would never cycle.

Cycling UK's '100 Women in Cycling' event aims to support and celebrate women in cycling and the incredible impact cycling has on many women's lives. This inaugural event sees women from all walks of life come together to share their experiences, and their positive stories and raise the profile of those who are making a difference through cycling.
Julie Rand continued "We know there are thousands of women with a passion for cycling and dedication to helping others to experience the benefits of it. Our list of one hundred Women is Cycling UK's way to thank a small selection of them, and to give them the recognition that they deserve".
Find out more about Cycling UK's Women's Festival of Cycling.

Useful links

If you have any other queries please contact us.

The Outdoor Experts is brought to you by ActSmart.